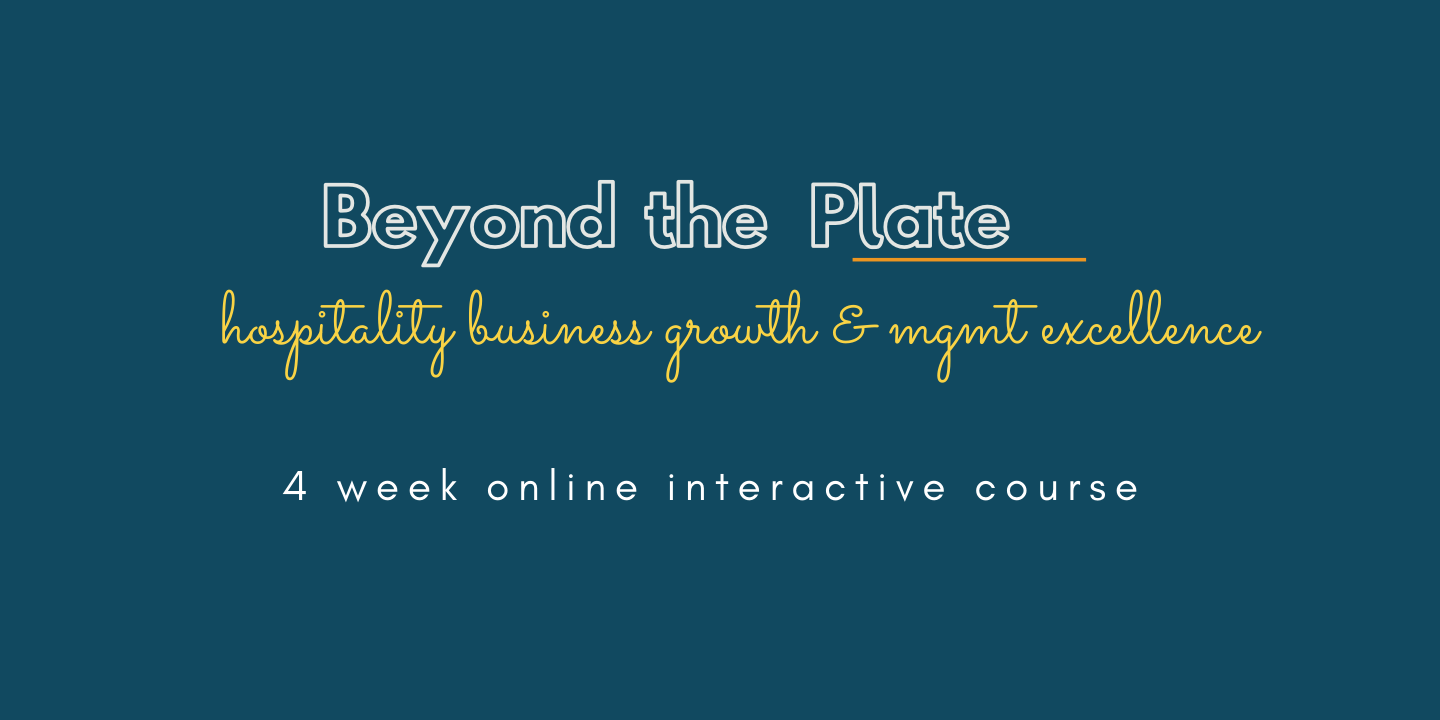 Do you sometimes feel stuck, facing an avalanche of work, and you're not sure what to do next? This course is for you! This four-week, online, live interactive course is for restaurant, café and food business owners, as well as managers of food service companies who want to grow their business and achieve greater success.
Beyond the Plate is designed for food business owners that feel their business could be so much more than it is today, but don't know how to get there. Beyond the Plate will help you figure out how to get your business to live up to its full potential.
Whether you are a first-time food entrepreneur or a veteran at the restaurant rodeo, this course will help you uncover new insights into your business and reach new levels of success. You will identify bottlenecks to efficiency, marketing tips and tricks, and financial stability and profitability for your business. Beyond the Plate gives you specific and actionable tools to succeed. It's your roadmap to success.
We will meet via conference call twice a week for four weeks. Each call will be a mix of online lectures, homework review and one-on-one personal interactions. Class size is limited to ten people so I can give you my full attention. Outside of class, you will be part of a private online group to share information and advice. You will have unlimited access to me via email plus one-on-one time with me each week. Every homework assignment is designed to give you specific tools and information so you can manage your business more efficiently, effectively and successfully.
Beyond The Plate is for you if:
You've been working your tail off, think your business could be so much more and have no idea how to get there.
You have a restaurant or café that needs more customers, better staffing or clarity on how to get where you want to go.
Your friends and family say your food is great but you aren't making any money.
You want to feel more in control of your business and its future.
You have industry experience and are about to launch your first business.
You want specific and personalized support and feedback to help you grow your business.
You have five hours a week to invest in yourself and your business outside of your usual workload.
___________________________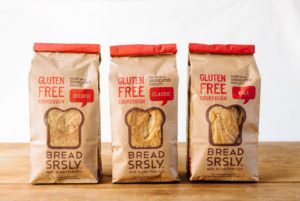 "Deagon Williams knows a ton about food, and even more about the business of food. This 4-week intensive class gives an opportunity to dive in to the most essential aspects of running a successful food business, straight from the brain of a woman who really knows her stuff. You get the benefit of learning from others in a "class" setting, while receiving valuable feedback from Deagon specific to your business."
-Corinne G, Bread SRSLY
After Beyond the Plate, you will know:
How to talk about your business as a unique brand and how to connect with your target customer.
How to clearly and succinctly talk about your mission and vision and how they impact your business.
How your business plan serves you and your business.
How to set and achieve measurable goals for your business.
Which things on your menu are rock stars as well as which are duds and how to fix them.
Everything you need to know about the financial health of your business so you make decisions based on data instead of gut.
Food and beverage costing, break-even analysis, fixed and variable cost and margins. And how to improve them!
How to work with vendors and staff in easier more effective ways.
Inventory and cost management.
How to crack the code on when and how to make price adjustments.
How to create an operational game plan so your business is consistently firing on all cylinders.
How to write a marketing plan that will drive measurable results that positively impact your business.


___________________________
"Deagon is passionate about her work and brings years of culinary-based business knowledge and experience to her work. She encourages students to participate and to roll up their sleeves and look under the hood of their business to explore and create what it needs to develop and thrive.
As a business owner, I find myself buried in an endless list of to-do's. Being so involved in the daily operations of my business, it is almost impossible to switch my mindset from daily tasks to thinking of long term goals. I really appreciate Deagon's 4-week business course because it carved out time for me to think critically about the foundation and future of my food business. Deagon's course provides accountability for owners to work on the important things that are often disregarded. She builds the framework and offers guidance to point our business in a direction that will align with our mission, vision and values. This course was incredibly interactive and engaging! It felt like the sounding board every business owner should have. After four weeks, I left with clear measurable goals that I plan to complete in the next 3-6 months. That feels SO GREAT."
-Jessica Nguyen, Bicycle Banh Mi – Little Window
Here's what you'll get during this four-week online course:
Time to step back from the day-to-day operation of your business and think about how to grow it and build your skills as a business owner.
Eight 90-minute group conference calls full of actionable information you can use immediately including tutorials, presentations and interaction with other business owners.
Twelve homework assignments that will immediately impact your business once you complete them.
Unlimited email support from me. Ask me any question any time.
A private online group where you will collaborate with your classmates for sharing and support.
Tools and worksheets you will use in your business over and over.
Real-time feedback so you move your business forward quickly.
___________________________
Over the course of four weeks we'll cover the following topics:

Week 1: Business Assessment –During our first week together we'll go over every aspect of your business with a fine-tooth comb.

Your business concept
Your brand
Your concerns and challenges
Your financial status
Your goals

For your homework that week, you will write your brand statement, a business plan, and assess the strengths and weaknesses of your business.

Week 2: Culinary Excellence and Operational Efficiency – In our second week, we'll look at your menu – what's working and what's not – to learn how to maximize the positive and change or fix the negative. We'll also look at your operations to figure out what's working and what isn't. That will include talking about vendors, staffing, quality control and inventory management.  This week you will create an organizational chart that ties directly into your operations plan so you know what needs to happen without things falling through the cracks.

Week 3: Financials – At the beginning of the second half of the course we will take stock of your current financial situation to determine what's not working so we can fix it. You will create projections, a break-even analysis and come to understand your costs and how they impact your bottom line in a way you never thought possible. And it will be fun. By the end of the week you will have a clear roadmap to reach your financial goals.

Week 4: Sales and Marketing – During our final week we will take a closer look at your brand to understand how to use it to promote and market your business. You will write a marketing plan that builds on your brand and will increase sales.
Hi! I'm Deagon Williams – Chef, MBA grad and the founder of Culinary Business Strategy.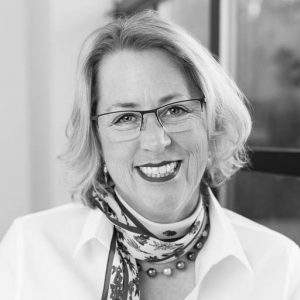 I'm a chef at heart. It's in my bones to work and play with ingredients to create delicious food that is greater than the sum of its parts. Twenty-five years ago, I held my first position as an executive chef and soon learned that being a chef is about so much more than making great food. My culinary training didn't prepare me for the rigors of being a chef and running a well-oiled, harmonious, efficient food business that made money.  I made so many mistakes, learned a lot and eventually started assisting other chefs in growing their businesses. I love this work. It challenges me to constantly learn and incorporate new components into my approach of growing food businesses.
I wished I had something like Beyond the Plate early in my career.
I created this course to help chefs, managers, restaurant and café owners (and would-be owners) confidently and effectively navigate the detail-oriented, complex and sometimes frustrating business side of the food world.
This four-week course is specifically designed to give you the knowledge, perspective and tools to make fact-based business decisions that will grow your company. Aren't you and your business worth investing in?
I look forward to helping you achieve your dream!